You could answer this question if you have had personality, enough spare time and an estimated financial status. Each person among you, who has had familiarity with the specifics of the Forex market, must have knowledge that a few trading regimes and a lot of strategies are present in the market; by using them a person may make an individual plan of investing. Though there is not a perfect profitable system, yet it is very important to choose the ways that are convenient for all the participants of the market.
Here is table which we took from dailyfx.com :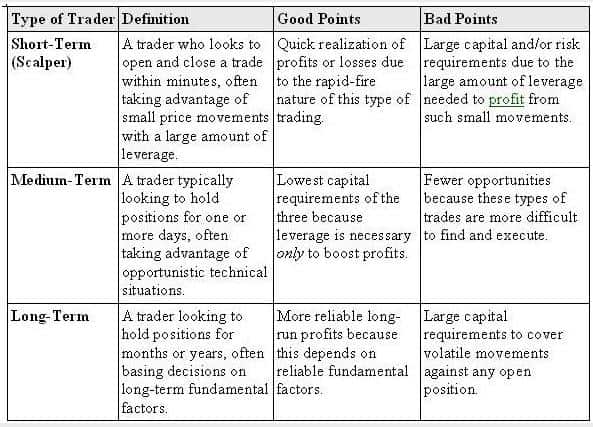 For instance, long-term trading may be convenient for the people who have had considerable capital that could stand major price fluctuations. In this way the trades can remain open for months and some time even for years. In case you have some capital management skill and you can make efficient analysis, so, your risk of losses gets minimized. Long-term trading requires less time because you do not need to sit in front of your computer to watch out and control trades all the day. As a result the pressure is low. But you should keep one thing in your mind that there is great need of patience because its result are not so fast. In addition, all the instruments of a currency markets are not suitable for long term trade.

For Short-term trading that is also called Intraday trading, you don't need a lot of money; you can trade many trades as per rule conduct in one trading day. The volumes of these trades are though small but bring profits from short term currency' fluctuations. In case the situation becomes a little negative, then you can exit the market easily and your risks are not huge, if you follow the money management rules.

However Intraday traders are not stressing free because, they have to estimate the whole situation immediately and make swift decisions. Since the prices fluctuate rapidly, so you are not able to have had free moments from the monitor, lest you should miss profitable moments for executing deals.
Midterm trading positions are open approximately for ten days. So, there is a lot time for analysis and making an appropriate choice. If a bigger initial capital could be necessary. In this trading pressure is low on trader but the gain is higher. Be cautious about one thing that exit from the trade might be difficult.
Individual traders are also considered as professions, and each occupation requires professional's skills and various qualities of character depending onto the kind of personality. In theory, determining the globe of activity, features of temper of any individual must be considered for using one's the potential of individual correctly.
So, in trading, by estimating one's potential satisfactorily, it is likely to find a suitable style of trading. However, the profit must not be the crucial moment here, because no strategy could guarantee instant wealth. Every way of trading can be successful if you plan the trades correctly.