We have looked at, in the previous articles the crossover of Kijun and Tenkan which are base and trigger lines as well as "The Cloud" or Kumo. One addition to this is going to be "the Filter" or Chinkou-Span. This will work very similar to Kumo and will help determine how strong the Base/Trigger signal really is. The way that this formula works is that the Filter is simply the current price that has been plotted at least 26 seconds ago. This is all there is to it.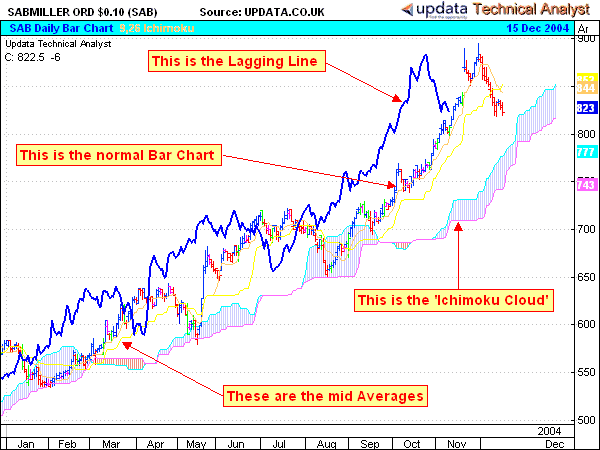 If it is higher than it was 26 periods ago, it is considered to be bullish. If it is lower, then the price is considered to be bearish in nature. Consider this, a long signal could be considered to be very strong and will also be very conducive for positions that are long. Both the Filter and Kumo will confirm this. However, if it is the reverse situation, then the position in the bearish would be confirmed using this same technique. It can potentially keep a trader from entering into positions that could be harmful to the trader.
When it comes to mixed signals such as Bullish and Bearish, it can help to read the charts. If the signals disagree, using a short position may not be the best option. For a second signal, there may be agreement for the Bullish Position using both "The Filter" and Kumo. This would be considered to be a strong marker for a long buy position. This would be agreement for both markers. Remember, "The Filter" works at least 26 periods behind the price that is current. If you are trying to back test this, it can be a bit challenging to say the very least.
Using "the Filter" can be forward tested by using a demo account. This can be done by setting the lot. This can be based on how strong the given signal is. Remember for a Bullish crossover take a look at this example. If it is below both "the Filter" and Kumo, it is considered to be a weak lot, and only one of these lots would be set. For a moderate or a crossing between Filter in Kumo, and Kumo this would say two lots of trading. For the Very Strong, it would be three lots, and the marker would be above "the Filter" and Kumo.
Bearish crossovers would be marked like this. If "the Filter" and Kumo signal is above this line, this would be one lot and a weak signal. If it crossed over in the combination of Filter in Kumo/Kumo, then two lots would be required with a moderate signal. If the crossover is below both "the Filter" and Kumo, it would be considered to be very strong and would need three lots of trading. So you can see how it is to use both markers in order to be able to place trades. Knowing all about this can make it easier. This can help a trader to make the right decision at the right time.