Forex trading is a great business nowadays and is capturing the world market very rapidly. Great profit margin and 24/7 working hours are the two great advantages of forex trading. There are also a lot of other advantages of forex trading. Daily we come across a lot of news and rumors about United States economic issues. Apart from that thousands of news is published in local and international papers on the world economic issues every day. Currency marketing is a backbone of any economy. This factor can boost up any economy over nights and can also crash the economic structure of a country within few hours. Most of the brokers around the world are offering eight major currencies to trade. All the eight currencies have over 17 derivatives. Out these, minimum 7 piece data is released on daily basis. Here are eight major currencies of the world that are most rapidly traded.
1. U.S. dollar,
2. British pound,
3. Euro,
4. Swiss franc,
5. Japanese yen,
6. Canadian dollar,
7. New Zealand dollar and
8. Australian dollar.
The most expected derivatives of the above mentioned eight currencies are as follows.
1. EUR/USD,
2. AUD/USD,
3. USD/JPY,
4. EUR/CHF,
5. GBP/JPY and
6. CHF/JPY
Secondly newspapers give a lot of information about following things which greatly affect forex trading.
1. Interest rates (what interest rates are fixed by the government),
2. Retail sales (quantity of products available in markets),
3. Inflation (difference between the consumer price and the producer price),
4. Unemployment,
5. Rate of production of the products,
6. Business trends,
7. Trade balance (is the demand and supply chain balanced or not?),
8. Consumer confidence on the product and
9. Information about manufacture sector.
All these aspects have great importance from trading point of view. Apart from this the level of significance also changes with time. For example if the major resolving issue is unemployment then you have to make a trade by keeping unemployment in mind as a major trading factor rather than interest rates or retail sales. Simplifying all the above discussion you need to follow the trading trends and move according to these trends if you want to earn great income out of your forex trading business.
Most of the traders trade news in a way that they wait for a consolidation period and then simply trade a breakout. This can be easily done in both short-term intraday as well as daily basis. As we all are familiar with the fact that economic news of United states as well as that of the world greatly affect currency market, especially in case of short-term movements of trades which are triggered by these economic news.
If you want to earn great profit out of your forex trading business then you must have some understanding of the thing that which release is expected and at what time, which release can greatly affect the economic condition and what should be your trading strategy at that particular time.
Example :
this example you can see in the article : How to Trade Forex News Nonfarm Payrolls strategy – How to trade forex on economic news releases
This strategy is "fade the initial move.".
Steps :
1) You wait afther news release.
2) You open 30 min chart and watch trading position on EUR/USD.
3) Buy if close is closer to low of 30-minute reaction
Sell if close is closer to high of 30-minute reaction
See profit analysis :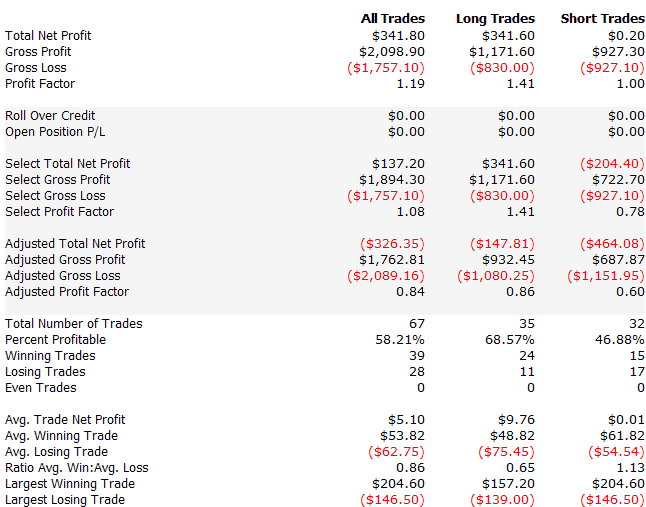 See examples charts from dailyfx :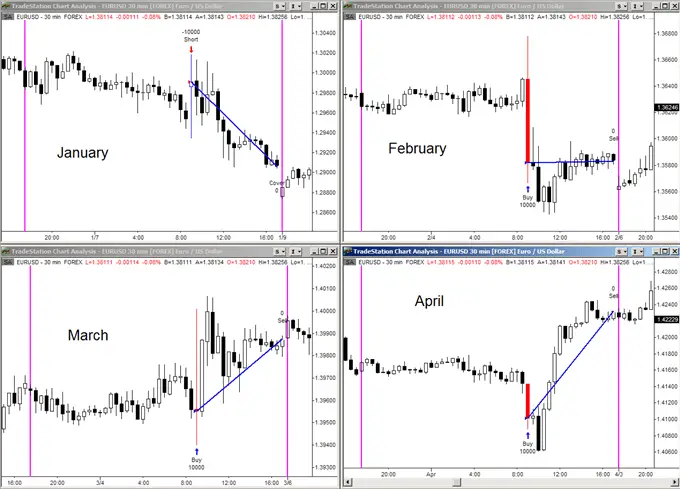 Enjoy in this forex strategy !