Using Metatrader very often you can see that some chart doesn't work.
Sometimes 15 min chart works, 30 min chart works for some currency but 1 hour chart is frozen. You are waiting few days – but that time frame chart is still frozen. So How to fix frozen chart in Metatrader ? How to Fix chart reappearing ?
A lot of our users ask this question to us and we will give you very easy explanation. You need to change profile !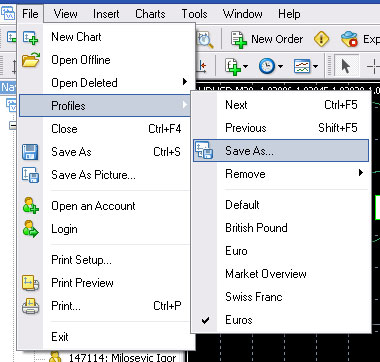 Your profile is Default. You need to save your default profile and give another name.
Go to:
File>Profiles>Save As…
Save it as a complete new profile. Use a new name for it.
The bug will be gone.
So when you save new profile and when you switch to new profile (everything will be the same as Default profile and charts and indicators) – you will see how all charts work properly.
Enjoy !