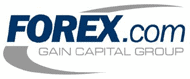 FOREX Review helps a trader to decide if it is a broker worth working with. Forex.com is a division of GAIN Capital Group. This particular group is known by Forex traders and is one of the most respected brokerages in the industry. The parent company GAIN Capital has investors from over 140 countries and is used by day traders, professional money managers and institutional traders. This provides in Forex.com a resource that is comprehensive for beginners in the market or limited experience in the FX market. Training tools, market information and educational content are found on this site.
This brokerage company also has trading capabilities that are all full service. On Forex.com, spreads can be as low as 2 pips tops on the most popular currency pairs that are traded. Forex.com offers three to four different accounts such as a mini account with deposit level of $250 and minimum size of transaction at 10,000 of the currency base or 1/10 standard lots. Leverage here will be 200:1 on a minimum deposit of margin at 0.5%. A position of USD 10,000 minimum would be $50. Standard accounts require minimum of $2,500 and 1 lot transaction size. Leverage here would be 100:1 with 1% deposit margin minimum.
Four different software programs are available from Forex.com. FOREX Trader Wireless, FOREX Trader, Forex Trader Web and FOREX Trader Java. These programs combine a host of items on a single screen such as order management tools and professional charting tools that give a trader full flexibility. Registering for this broker is easy. To fund the account, personal checks, cashier's checks, wire transfers, debit cards and credit cards can be used. Requests are processed within two days of receipt on a business day. No fees for check withdrawal, $25 for wires in US. $40 for international wires.
Trading is easy to keep track of and confirmed within a second or two. Transactions will also be available on screen including reference numbers, time, date, rate, USD value, and amount of transaction. Dealing software will track all activity during trading in real time. The trader can view different options such as historical transactions, account balances, profit and loss, open positions and margin availability all on the trader's screen.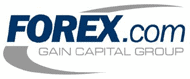 Included in the account at Forex.com, there are technical analysis, 24 hour news stream and charting packages that will help a trader trade in the market. Also included would be live market commentary, and professional research on the Forex market. A trader can then keep up to date on the changes going on in the marketplace such as market developments and economic events.
Real time live help is available 24/7 to help a trader through the process of trading. It takes time to be able to navigate the site successfully. Knowing what options are available makes it easier to navigate and use. A trader will then have all the tools that are needed in order to get into the market successfully. Take the time to fully read a Forex Review to see if this brokerage firm fits your needs as a trader.

Join now to Forex.com