Why Traders Fail in Market

The main reason of trader's failure is that he or she has no appropriate knowledge of 'Money Management'. The currency traders have had access to leverage (borrowed money). This availability of leverage tempts them to place trades larger than their accounts.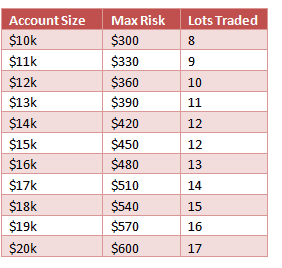 As a result, whenever losing trades happen, they lose 20%, 30%, or 50% and some time the whole trading account. On the other hand the traders who always follow the "rule of thumb" undoubtedly, elimination of loss is not possible but for them the quantity of loss must be small.
These losses can be avoided by following steps:
Calculate 5% Loss on Your Trade Account
This calculation is very easy. You just multiply your account balance by .05. Suppose you have $7500 account multiply it .05. This amount will be $375. Now you can see the benefit of following the 5% rule. Your maximum onetime loss will be only $375.
Try to Enter Higher Probability Trade
As trend traders you should always try to find strong's trend currency pair. Then seek an opportunity for entering a trade in the trend's direction.
Once you succeed to find the pair, then you find a time frame chart which provides you support and resistance's fairly defined levels. By this way you determine your entry and stop placement levels with greater clarity.
For making it clear I take an example of hourly chart for the currency pair EURNZD. This currency pair is in the downturn so, price action is creating lower highs & lower lows, whereas Euro is weaker than NZD. At the base of one hour chart you can short this pair if its price is below 1.5842, the stop price is 1.5906 up the previous high. Then you subtract the entry price of your stop, you will have amount of risk on 64 pips.
Divide These 64 Pips/. 05
This division will give the size of your account which would be needed to put 10K trade on the currency pair according to the 5 percent rule. In such case your account size should not be less than $1280. In case your account size is < $1280, then look for another currency pair for trading which parameters match your account size. You must have noticed that all process was done "Before" entering the trade. In case you are waiting unless "After" and you enter trades for making this determination, this is possible that you might be entering trade that stop placement would cause you to take on very much risk. If you are tending to take the 20K positions on the same trade, then your account size should be $2560, because double risk amount is being taken. Money Management protects your trading capital. Almost all traders lose trades. So, you should set your loss level at maximum 5%. If you enter trades at less than 5% risk, that would be better for you. The Risk-Reward is an important component of the Money Management that ensures that on your winning trades your gain must be more than you lose on your losing trades. Risk-Reward Ratio Problem Resolver
Many new traders close winning trades very soon on a small profit, but they stay long in losing trades with the hope that losing trades would turn into winning trades soon. In a result, they gain little but lose much and in some cases wipe out their accounts.
So, if want to increase your ability to survive as well as to be successful in the market, then you should place higher probability trades no more than 'Five Percent' and Risk-Reward Ratio at 1:2 ratio. 1:2 RRR means you are only risking half of that you are anticipating to gain on every trade.
For example, if you have 50 pips stop on your trade the gain must be 100 pips. In this case you will be gaining twice as compare losing. This calls positive Risk-Reward Ratios.
The benefit of Risk Reward Ratios is that you may lose more trade than win but still remain profitable trader. How?
If you take 10 trades along with 50 pips stop on every trade and loses six of the trades, you lost total 300 pips, on remaining 4 winning trades you will gain 400 pips. The net gain of your 10 trades will be 100 pips positive, though you lost 60% trades but showed profit by the power of positive Risk-Reward Ratios.
Now you place a Risk-Reward Ratio in a currency pair NZDUSD that has been shown on the one hour chart. Since uptrend is being observed in this pair so, you will buy a higher probability entry. If this currency pair trades at .7991 above the previous high level, you should buy the pair. You would place your stop below. 7887.
If you place entry in .7991 and stops at. 7887, then, the distance between entry and stop is 104 pip. In case the trade doesn't work out, you would be already aware that loss will be only 104 pips a trade. With 1:2 Risk Rewards Ration you are risking 104 pip, but you have a an opportunity for gaining 208 pips.
Now you use Daily Chart on the same NZDUSD pair and look if, there is any potential. In this chart if price trades above .7991 levels, it means, still have a 'room to move' upward to the next resistance level at .8236. This will be 245 pips gain. Since you were looking 208 pips from your 1:2 ratios, this will be more than your anticipation.
You should keep one thing in your mind, on the basis of; since currency pair has had 'room to move' it is not necessary that this pair would go that level. It is only trading edge not guarantee that the price must comply in this case.